© Central c.n.c. Machinery Ltd 2018
Call us now on:
01484 641641
Email:

Please select from the options below for more information on our products:
Victor c.n.c. Routers
Capacities from 900mm x 700mm up to 3m x 2m
Suitable for a wide range of applications
Click here for information and specifications
Acctek entry-level cnc routers
Capacities from 600 x 900mm upwards, at very
affordable prices. With or without vacuum tables.
Click here for information and specifications
Rensi c.n.c. Routers
Medium and heavy duty cnc routers
Capacities from 1.3 x 1.2m to 3m x 2m
Optional Automatic Tool Changer
Click here for information and specifications

Vectric CAD/CAM software
We supply software and training
Click here for further information

Tooling for c.n.c. Routers and
traditional woodworking machinery
Click here for further information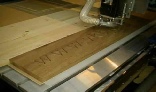 C.n.c. Routing service
C.n.c. Programming service
Click here for further information
Trend cnc Mini Router
A small desktop c.n.c. Router for both 2D and 3D work
Fully enclosed, this machine is ideal for education
Click here for information and specifications